inside stories
Sip branding: riding on a high
We've been waiting for the happy hour to share this with you, waiting for our high to wear off and make sense of what we did. Just how hazy recollections of a well-lubricated evening become clearer with time. 
We are branding and designing an identity for Sip.
Sip is an AlcoBev delivery app, with plans to start delivering soon. You can soon say goodbye to the long queues and wrestling matches at the wine shops to get your tipple. 
So, with libations to the design gods and to ourselves, we began our explorations. 
In letter and spirit
Do you read liquor labels? We do. Part of what makes spirits iconic are their letters.
Do you not recall how Johnnie Walker is written on the iconic bottle, or the lettering of the Jack Daniel's bottle or the elegant beauty of Bombay Sapphire label?
They've all got a distinct, classic look and are instantly recognisable, on the bottles, on posters or coasters in bars. Memories of a good time naturally follow. 
It could be a subtle way to hint at what Sip is about. 
Saintly pleasure
A drink—after a hard day at work, or one on a lazy Sunday afternoon—shouldn't feel like a guilty pleasure. 
It is a practice for self preservation. Much like meditation for some, drinking has restorative benefits too.
This route has 'the halo' as a logo unit. 
For an enlightened connoisseur, to put them in the nirvana zone.  
The aesthetic is relaxed and light—airy colours, cloud like type and a laid back love for life.
Flowing with the waves
The flow of fluids inspires the third route in our design crawl. 
Have you stopped and noticed how a drink looks and swirls in the glass or the bottle? There is something intriguing there, and that's what we've tried to translate into this route—the dance of the spirits.
The waves are bright, and the glasses are full. There is an abundance of choice and spirits.  
A heady buzz
The mind altering effects of alcohol are well known. It's a stimulant that lowers our inhibitions but heightens our emotions. 
This route is set in red, the colour of arousal and stimulation. 
There is a pulsating feel to the entire route. The text, circles and every other element is reverberating. 
One for the buzz lovers.
Barware
Drinks served in the right glass elevate the taste and experience. 
There's a reason a daiquiri comes in a coupe. It's not a negroni if it's not in a rocks glass. 
We saw that the glasses, with their many shapes and sizes, lend themselves perfectly to play.
That's what we tried in this playful route. The vessels carry this route forward. 
Mixology
You know whether a cocktail is made correctly from the first Sip. Each ingredient, however miniscule, plays its part in making a delicious drink. 
In very much the same way, we're using elements of shape, colour, typography in this route. 
Many types of fun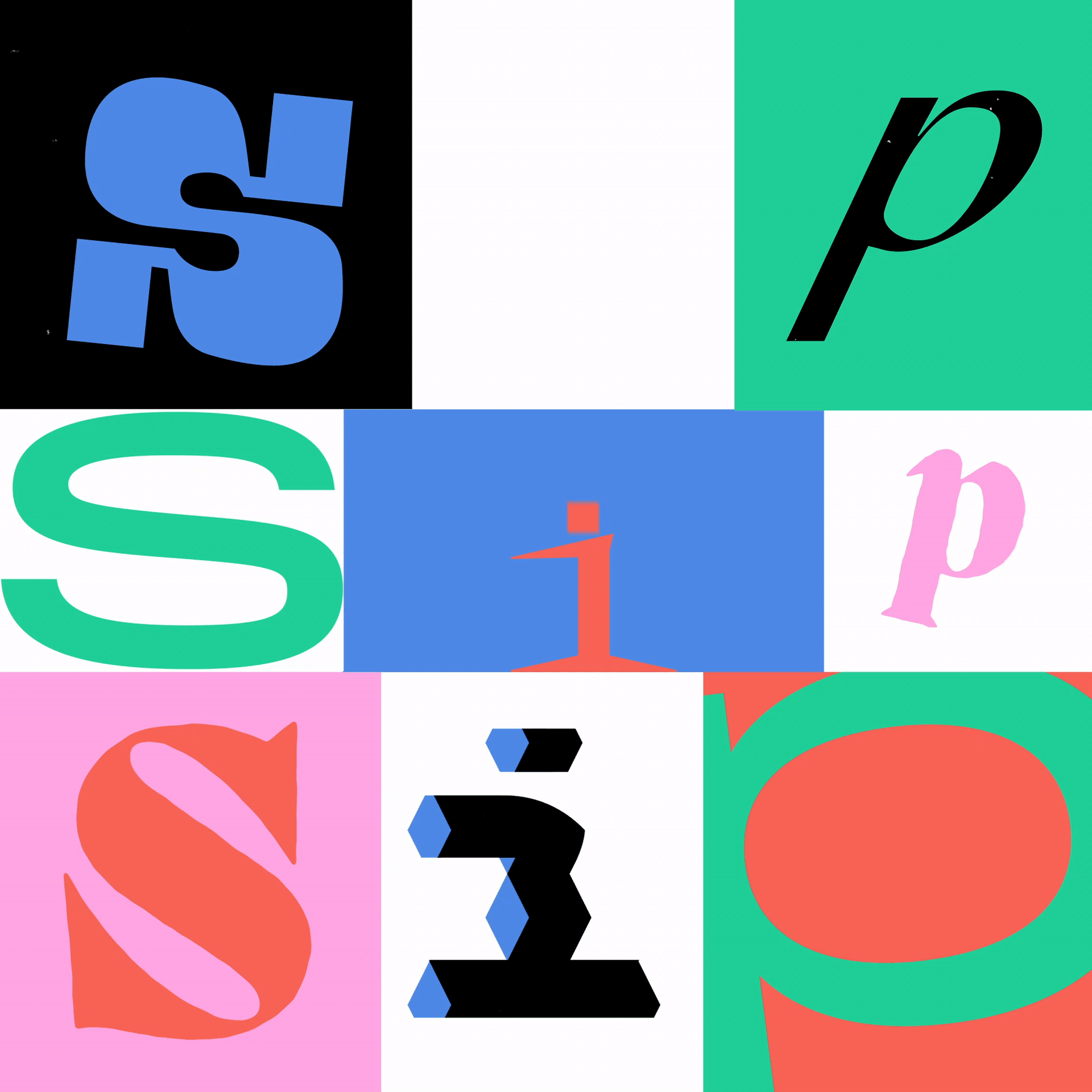 An excess of explorations led to this idea.
In the ideas of pleasure, there is no uniformity.
Everyone has their choices and Sip plans to fulfil them. This route is a celebration of diversity and abundance.

You've been served
We imagined Sip as an intelligent bartender or sommelier.
Serving us with a smile while expertly guiding us through the world of drinks with its infinite knowledge and choices.
A bow tie takes on a dual identity—of great service and the infinity of options available on the platform.