inside stories
Jack Daniel's Festive Pack: dressing up a firang legend for desi festivities
We designed the festive packs for Jack Daniel's Tennessee Whisky. 
Owned by AlcoBev major, Brown Forman, Jack Daniel's is a name known the world over. 
Jack Daniel's is as much a part of the American dream as the Ford Model T or the Silicon Valley. And it is one of America's biggest exports—cultural and commercial. 
Frank Sinatra loved it. Keith Richards wouldn't step on stage without a glass of JD in hand.  
The brand launches a festive pack in India every year, around Diwali, partaking in the Indian holiday season. 
And our friends at Jack Daniel's approached us to design their festive packs this season. 
We've been trying to find the perfect festive fit for Jack—something fit for the occasion and that keeps Jack comfortable in its own skin. 
Let's take you through the trials.

Jack Daniels, both the man and the whiskey are western legends. The whiskey's origins have an almost folklore-like status. It dates back to the 1870s. 
Our first route explores western penmanship traditions with a distinctly desi touch. The illustrations are emblematic of Indian celebrations. 
Ornately illustrated fireworks, peacocks, elephants, diyas, lotus rendered in a western flavour. 
Jack in a banarasi tuxedo?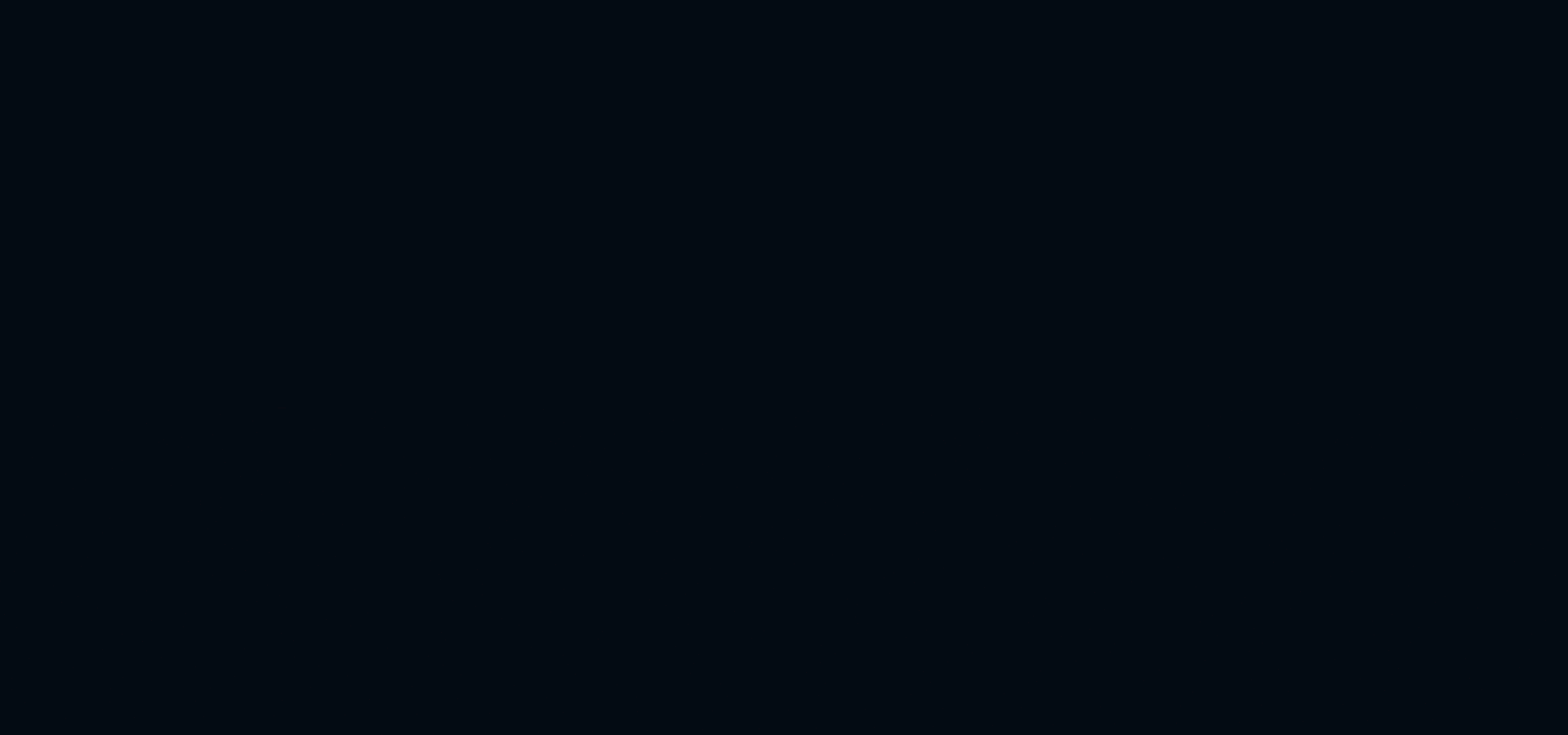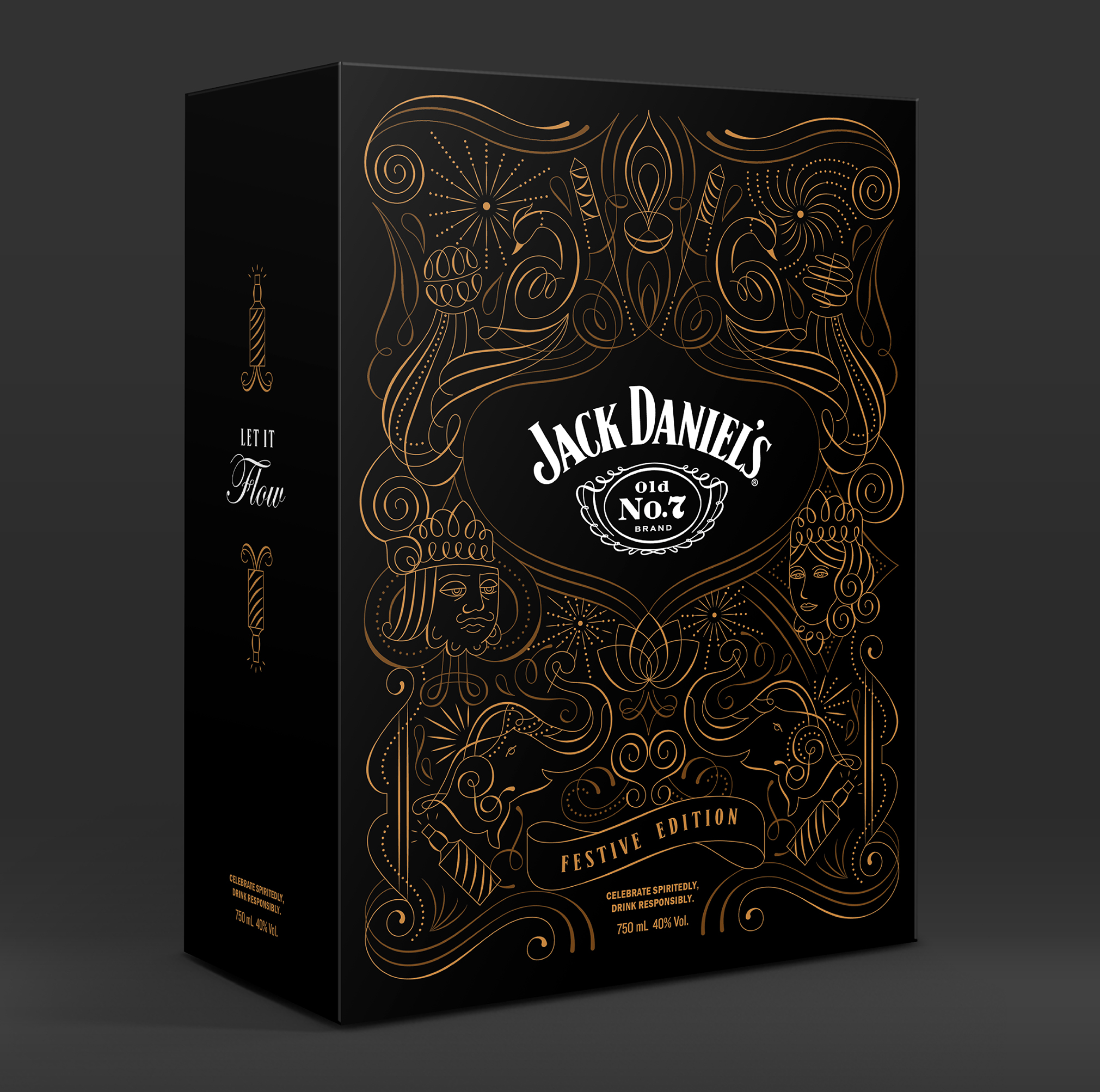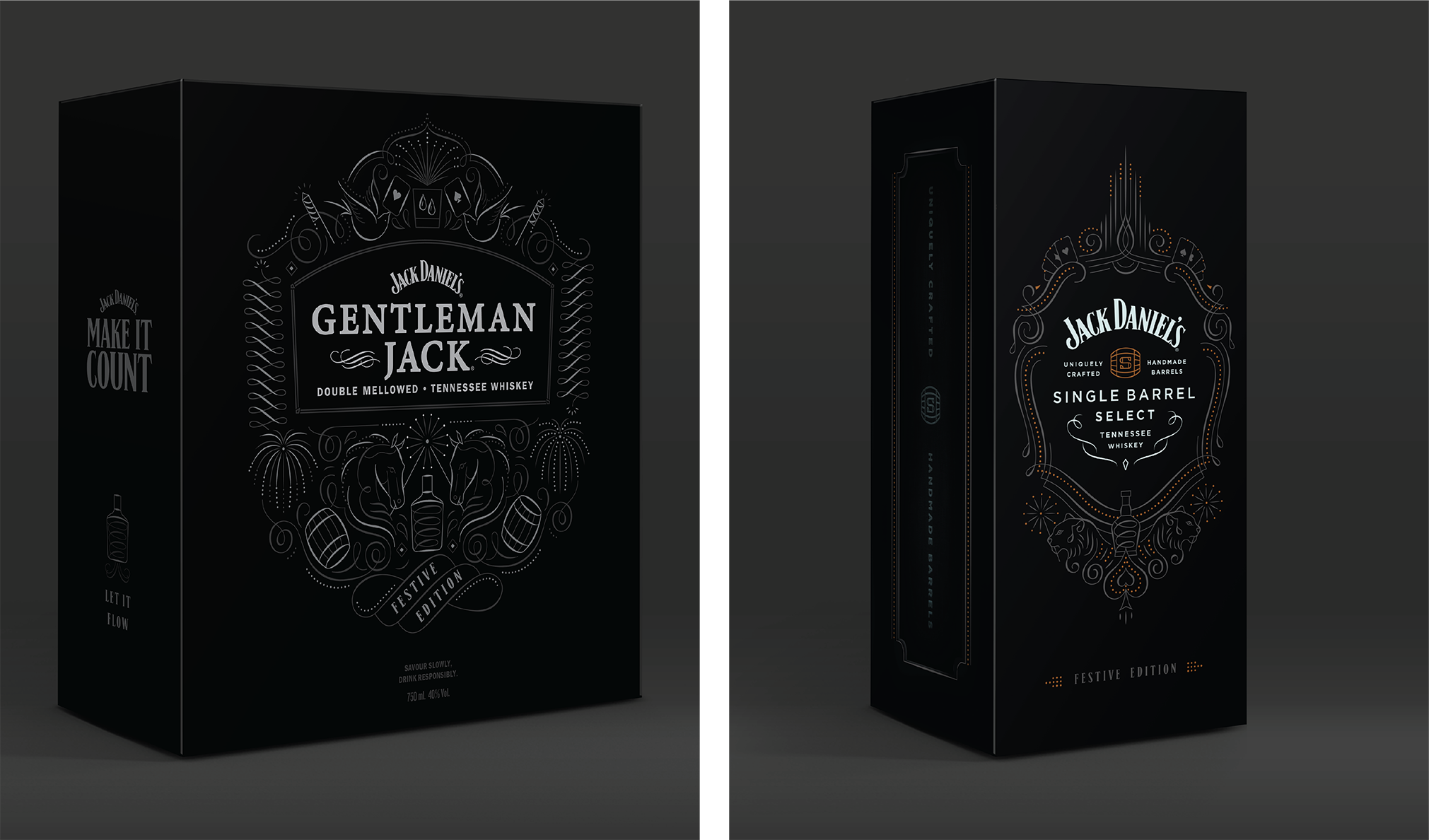 How many poker or taash parties did you attend this Diwali?
Card games are a quintessential part of the Indian festive season.
In our world, Jack reigns supreme, it's his world and the aces and the kings merely live in it.
Once the cards have been dealt, Jack raises the stakes.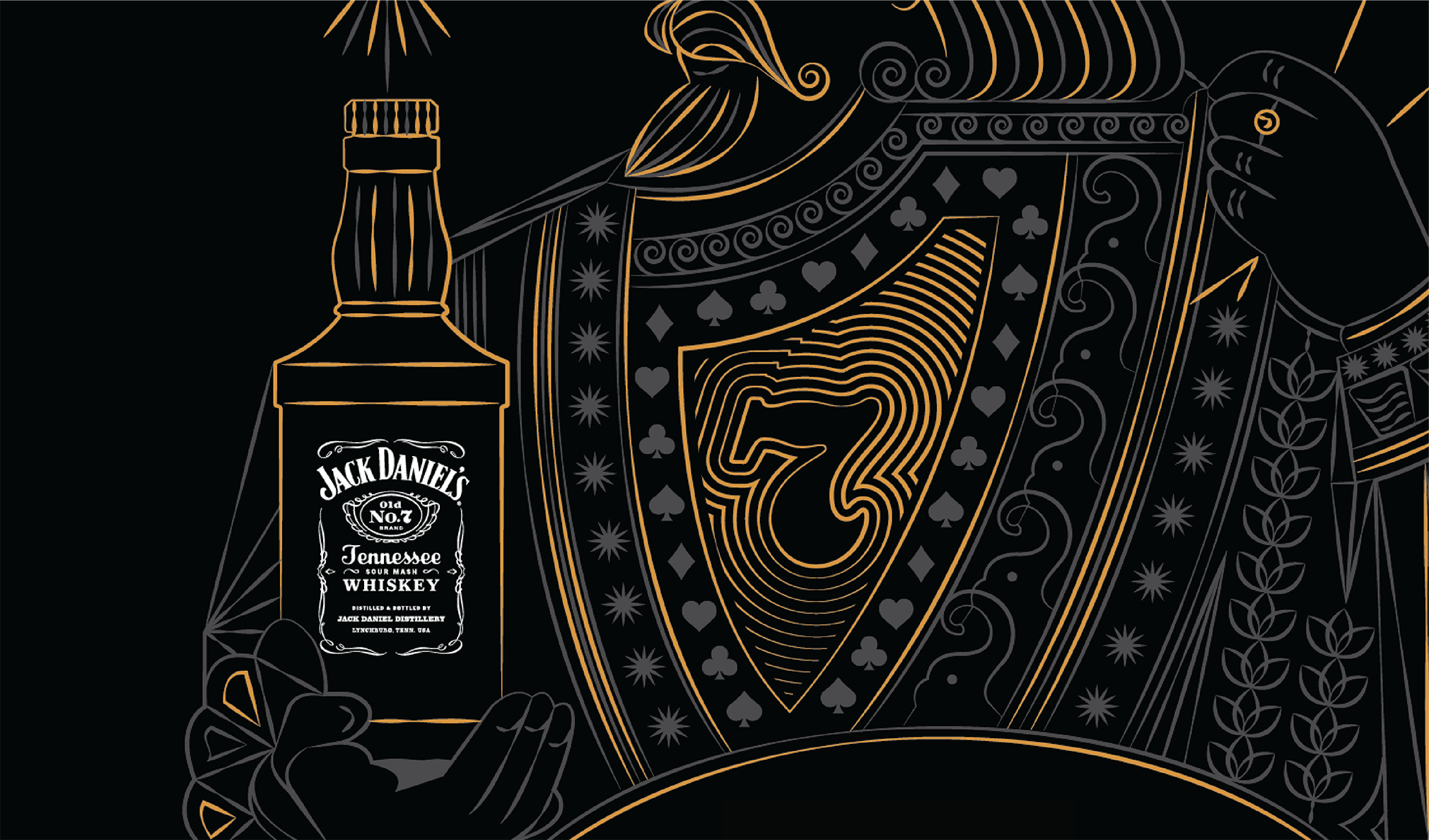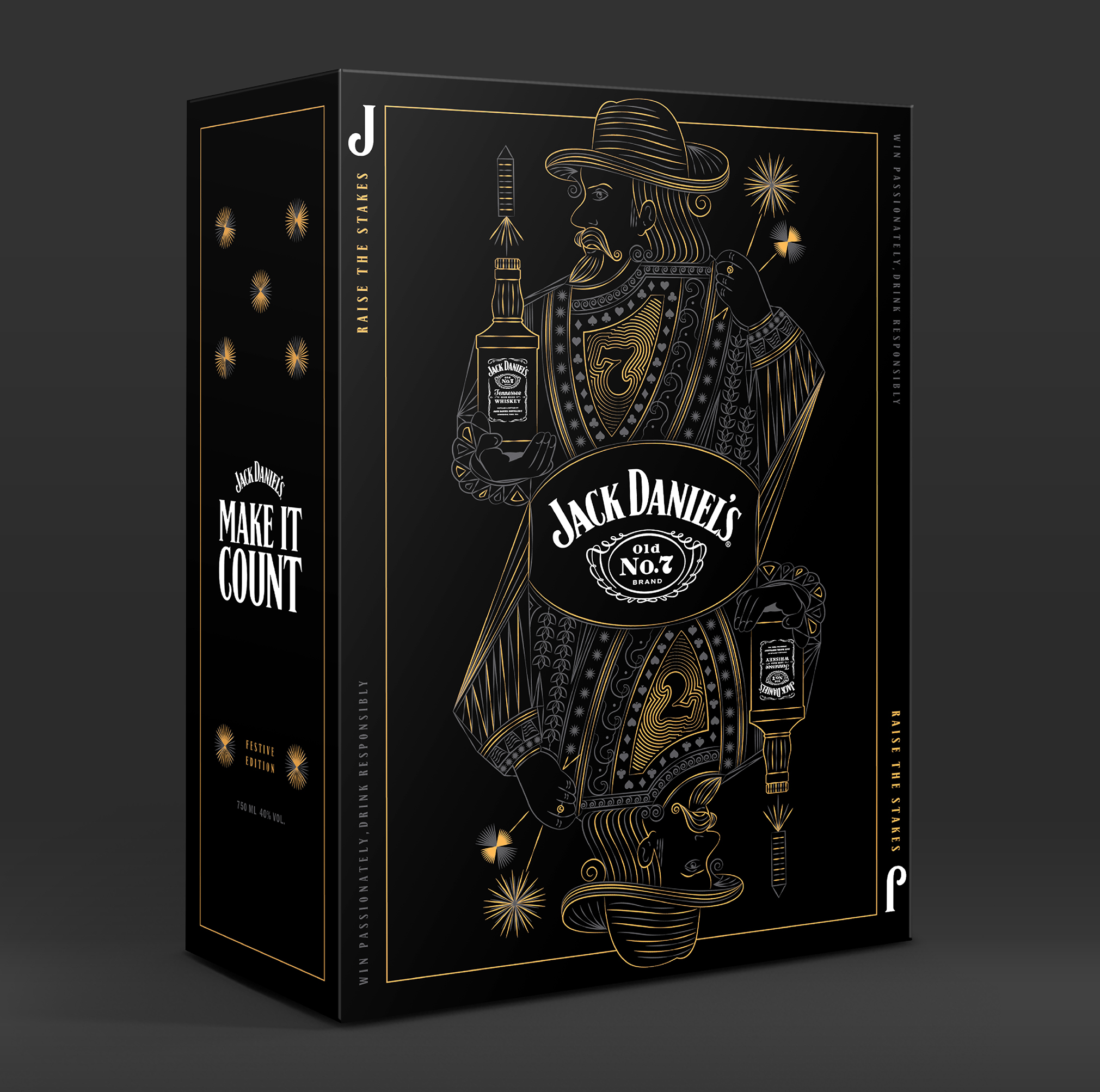 A brand is truly smashable when even a fragment of it is instantly recognisable.
It originates from a brief given for the coca cola bottle redesign—if someone were to smash the bottle into pieces and pick up the pieces. You can pick up a single piece and still recognise the brand.
The famed square JD silhouette is iconic.
We explored ways to highlight the bottle shapes of each JD variant in this route.
The lines are rendered to bring out a glassy effect. There is a hand-draw asymmetry yet the silhouette is perfectly reminiscent of the bottles.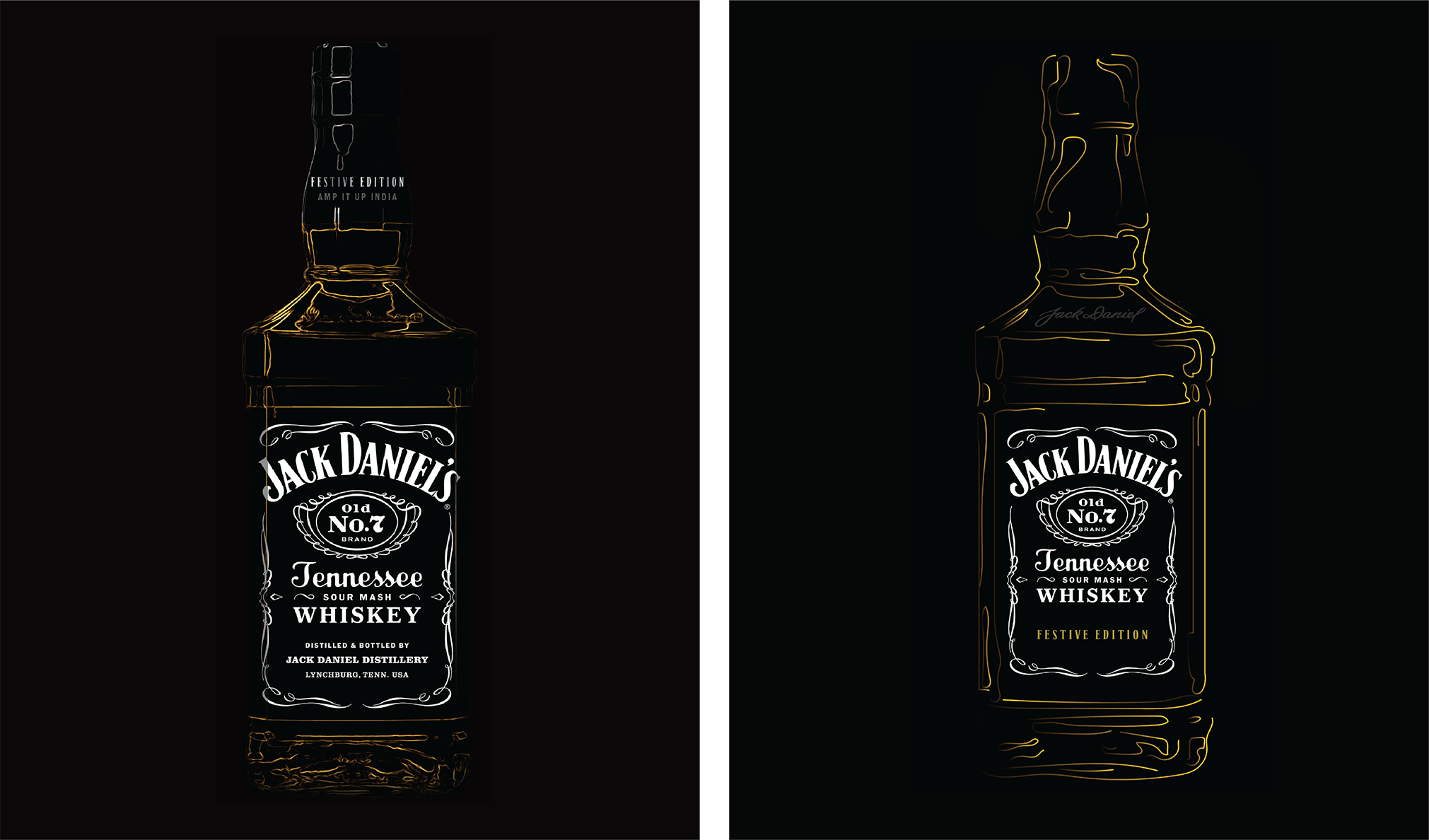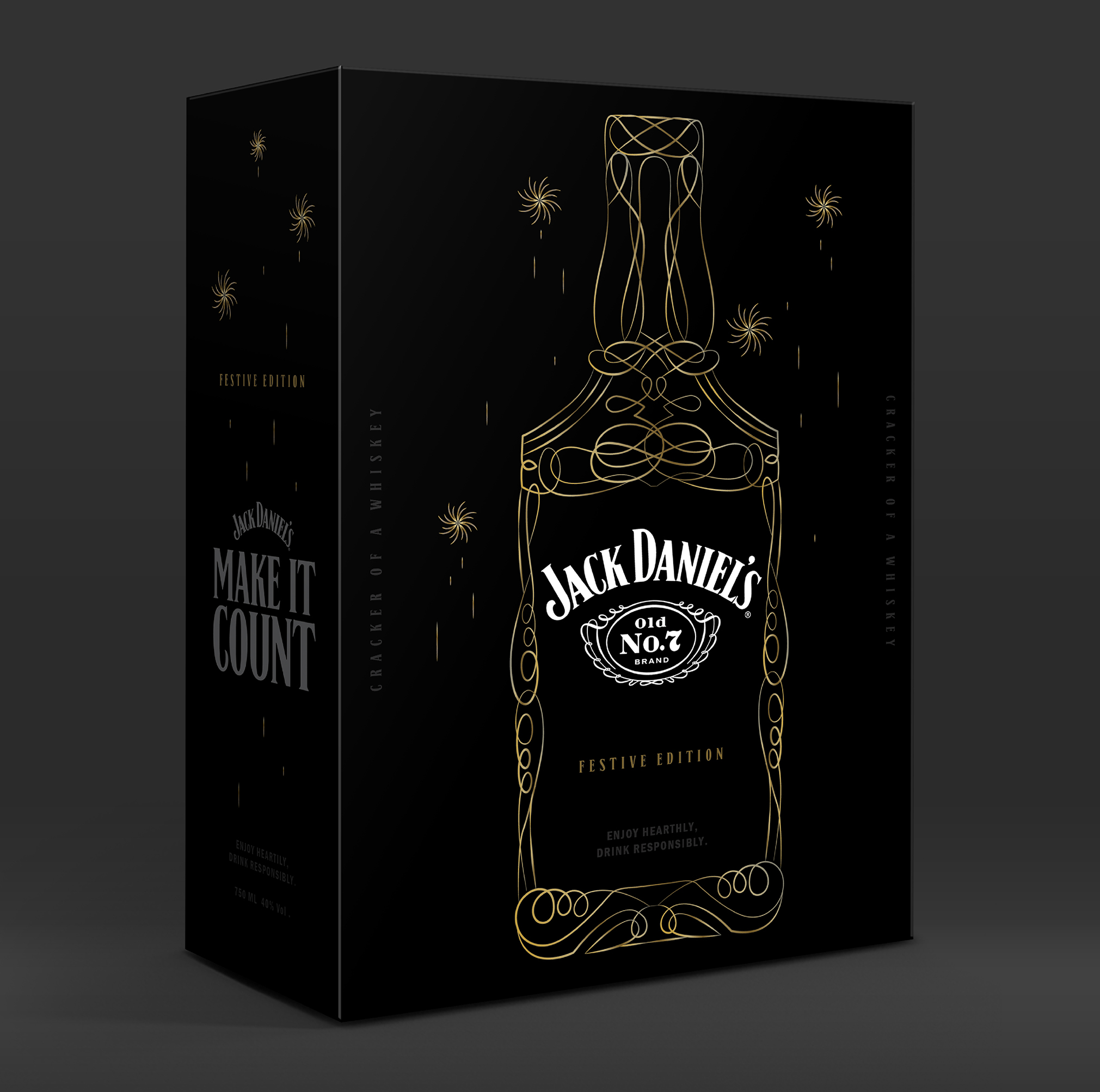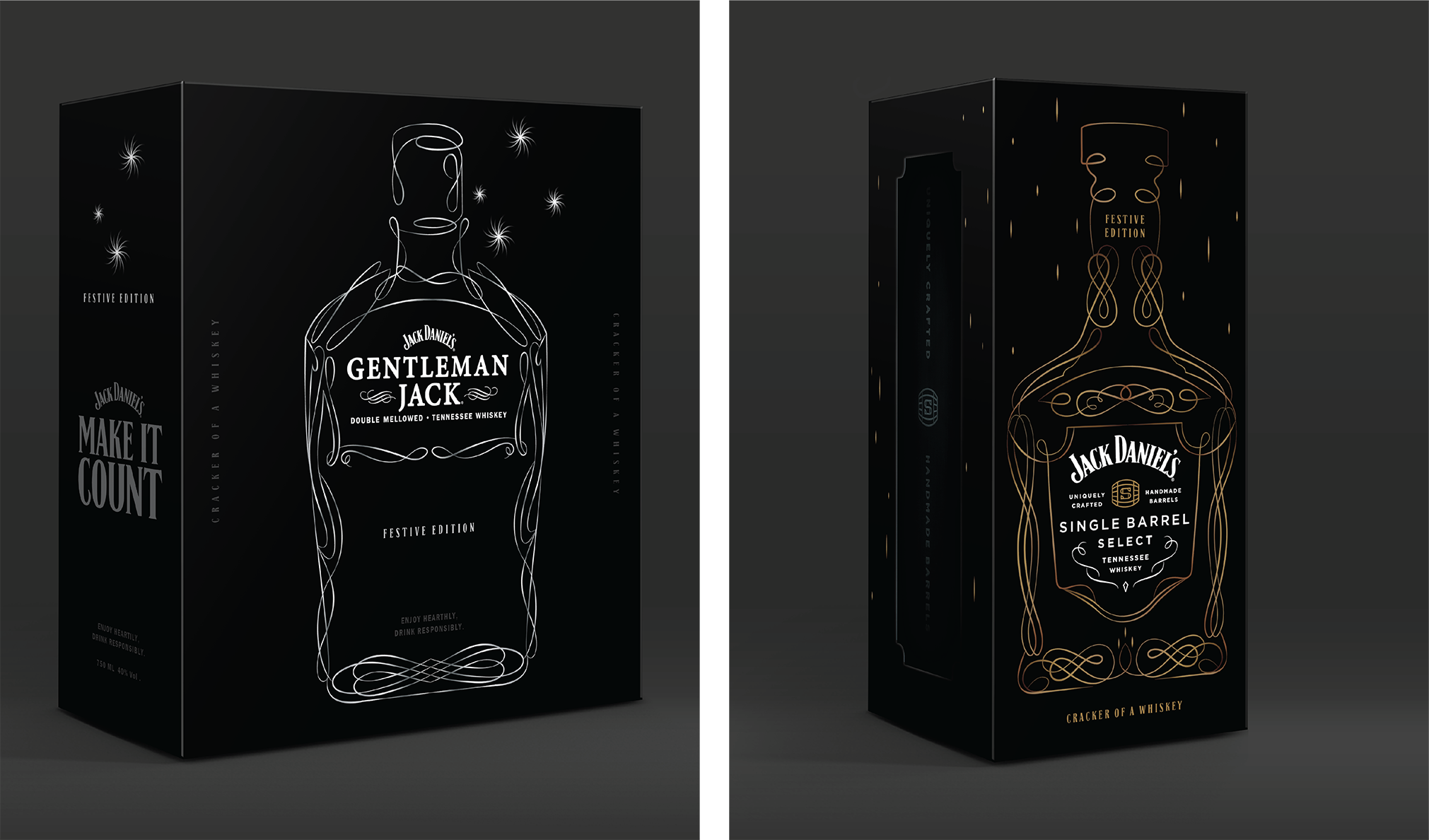 The original JD label has an interesting, intricate filigree surrounding it.
We tried coming up with a more elaborate border for the packs. We took the JD filigree pattern and extended it with festive motifs.
Each pack's border is crafted from its unique pattern.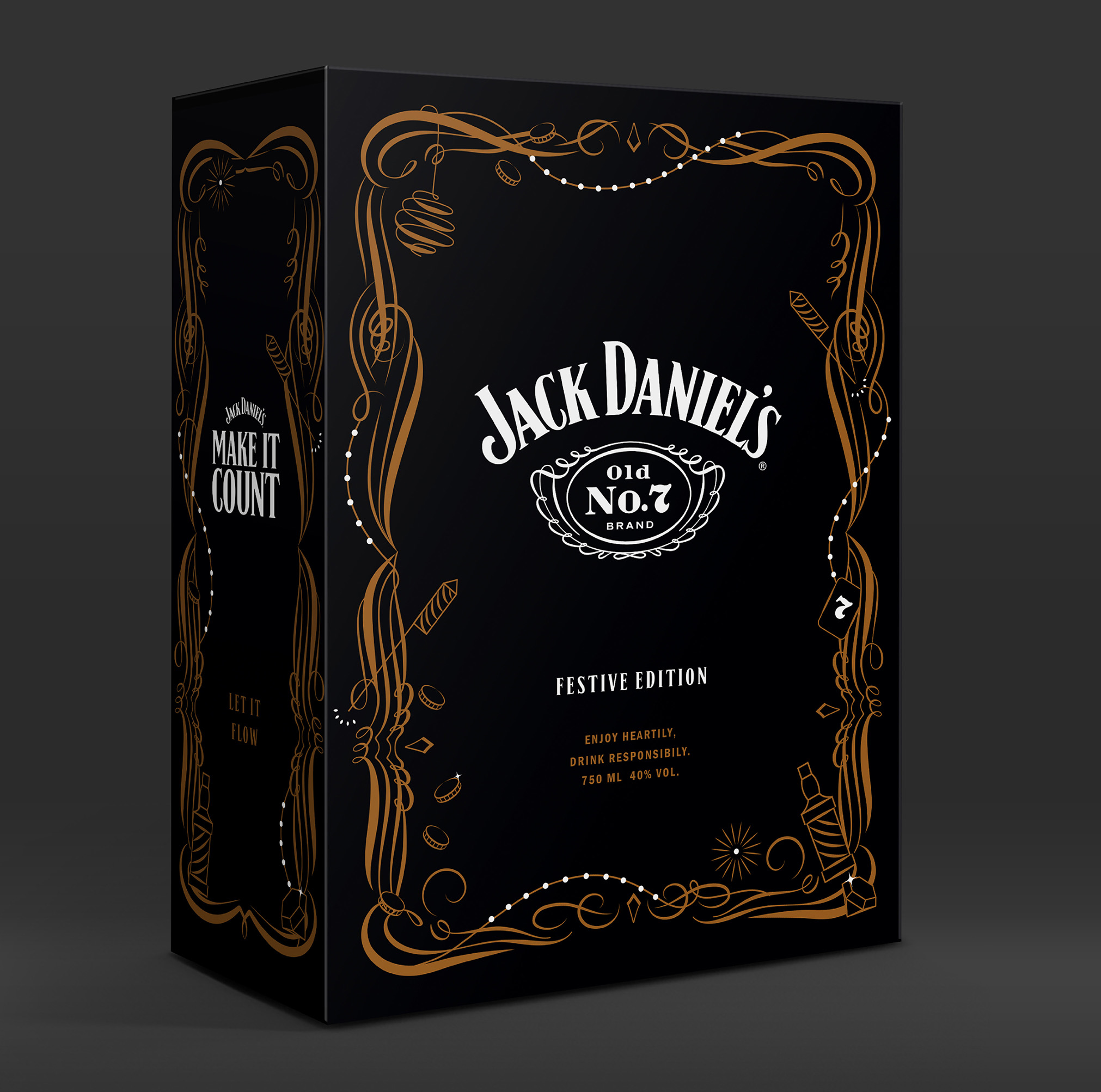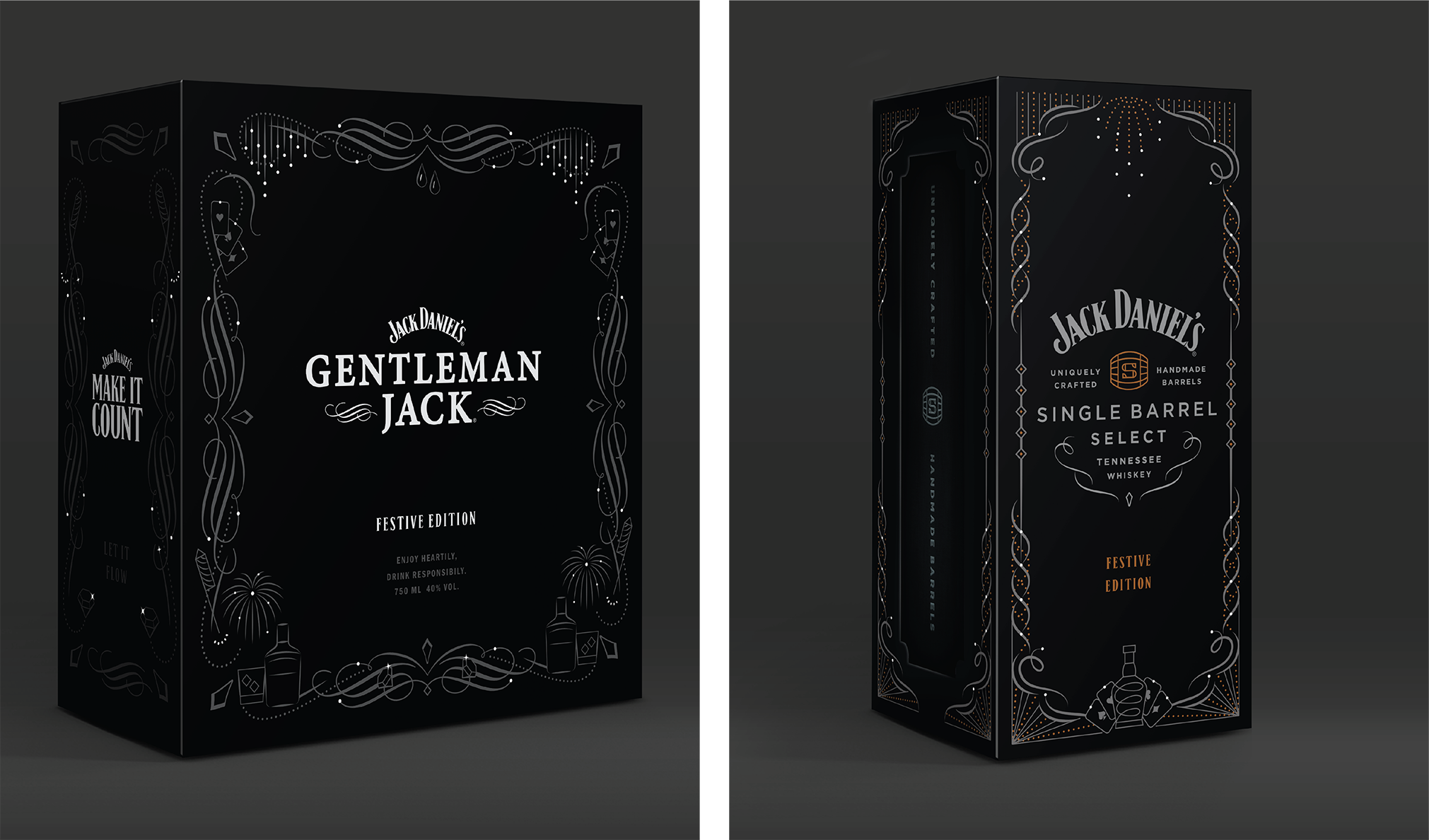 Diwali in India is all about lights and crackers.
Every space—from entire streets, offices, to government buildings and homes are decorated with lights of all shapes and sizes.
Bejewelled Indian motifs add to the spirit, ofcourse.