intelligent freight for an intelligent future
projectPando Website
clientpando
Background
Pando is a multinational freight management network. An intelligent platform digitising the global logistical framework for the world's biggest companies. Pando provides rich real time data—connecting shippers and companies through its network. We were approached to develop and design their website to communicate Pando's intelligent network capabilities as a strategic advantage.
Problem
Pando aimed to introduce and increase adoption of its platform based freight management to a larger section of the Indian market. The audience was threefold: small companies (and long established titans) who hadn't yet digitised their freight management processes, mid-size companies using the competitor solutions and finally sophisticated global or national companies with highly digitised freight management looking for local options or particular features.
The common message: understand the value of a simple but powerful freight management solution.
Strategy
Use design to communicate simplicity; talk up benefits in a manner that sophisticated firms could appreciate, and first-time digitisers could follow. Show off sophisticated customers.
Design
Pando's networked freight intelligence is a strategic advantage—and strategy results from planning. Pando makes use of diagrams, graphs and charts to simplify and explain their product's best features. The network as a service advantage also needed to brought home to first time digitisers.
Pando's network prowess is illustrated throughout the website using basic blackboard style graphics. These are hand-drawn, and 'naive' in character, never rigid or boxy. Images and videos are overlaid with these infographics, charts, shapes and symbols.
The message: great power comes with great simplicity. Pando feels like an everyday app, and the user is invited to be at home with simple network management — while planning and executing complex logistics across thousands of miles of geographical territory.
Impact
Overall, the messaging and the visual language achieve a welcoming introduction into the world of intelligent freight management—simple yet extraordinarily powerful.
The unstuffy website design attracts new and experienced businesses while distancing itself from the overly technocratic feel of other solutions in the same space.
intelligent freight for an intelligent future
projectPando Website
clientpando
Pando is an intelligent platform digitising the global logistical framework for some of the world's biggest companies. We were approached to develop and design a website which could demonstrate Pando's advantage and promise of networked logistics intelligence to its audience.
Designed to show freight in motion
Freight is a dynamic activity—so is the Pando network. We married the two to show this and project Pando as a living, breathing entity with a deep understanding of the landscape. 
Information presented for ease of real time decisions
Pando's network centralises real time data from thousands of shippers and businesses. The information is delivered to the end user using an uncluttered, user friendly design to ease decision making. 
Graphs, maps, grids: Building blocks of the supernetwork
We used a variety of visual tools to re-inforce Pando's prowess as a connected, intelligent freight network.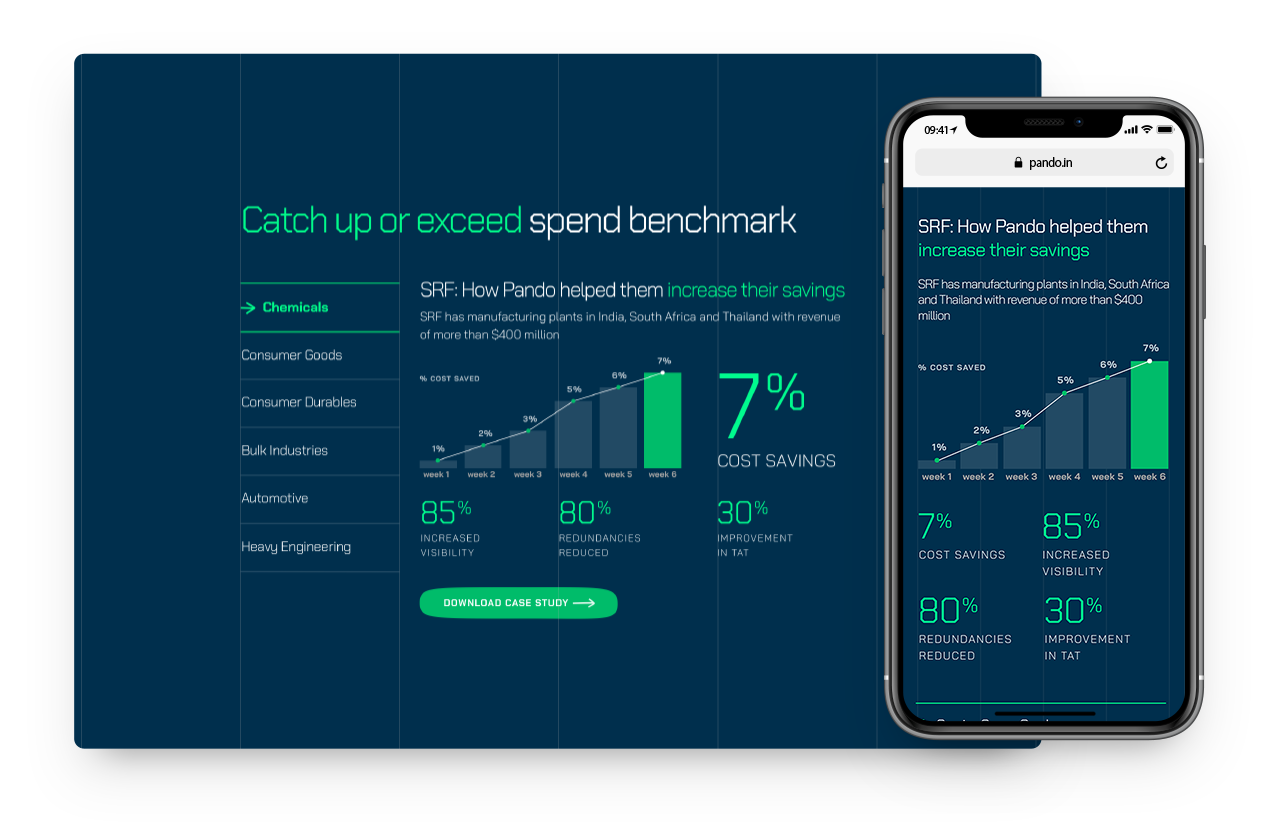 Case studies presented visually 
Pando's diverse clientele is leveraged to appeal to an equally diverse prospect pool using visual case studies across the industries. It has consistently brought in above par ROI for its clients through innovative logistics management.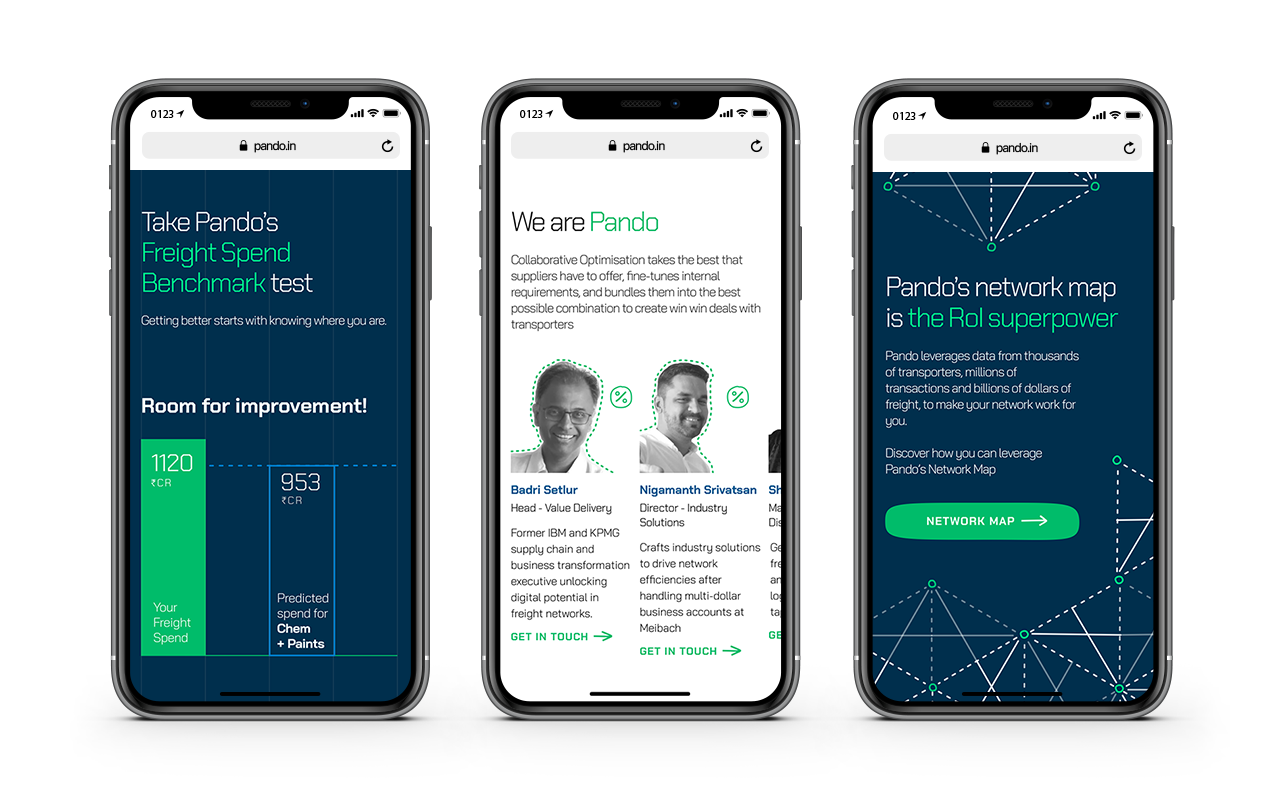 team
Partner-in-charge & Creative Director Itu Chaudhuri | Design Concept Niloy Kundu | Design Development Niloy, Zerik, Prashant | Writer Itu, Nitasha | Animator Pradhyumn | Alternate concepts Prashant, Zerik, Sreeja | Project Duration 7 months
see all