small perfumes for young women with big dreams
projectSecret Temptation Cheer
clientMcNroe
Background
Secret Temptation Cheer is a new line of small, 30ml perfumes targeted towards young girls stepping into womanhood.
The line is made up of 3 variants—Daisy, Jazz and Ruby.
We were approached to design a pack for the new range.
Strategy
Small packs serve as introductions to a brand, at an affordable price. Cheer is meant to be an introduction to the brand to young, first time consumers—young girls and women coming into their own.
They are probably new to the idea of perfume itself, graduating from 'deos'.
We thought if the pack could appeal to her idea of a good life and a day well spent, without being too obvious or chirpy (a departure for the category), it will resonate with the woman in her.
Design
We designed the outer cardboard box and the perfume bottle.
The variants—Daisy, Jazz and Ruby are geared for different times and situations that dot a young woman's day.
We used associations with her day and activities to give character to each pack.
Daisy is a fresh scent for a day out at the park or the mall, Jazz is for the gym or a casual coffee date and Ruby is for the nightclub and the afterparty.
The colours fade from dark to light in an understated manner. Mnemonics for each variant—a petal for Daisy, a heart for Jazz and lips for Ruby. All feminine cues.
The brand name finds pride of place in the limited real estate on the pack, building trust and assurance. Metallic gold is used in the illustrations and lettering—to represent the fineness of the fragrance, reminiscent of high-end perfumes and cosmetics.
The golden cap and fading colour gradient on the glass bottle carry over the themes of elegance and day in the life associations.
small perfumes for young women with big dreams
projectSecret Temptation Cheer
clientMcNroe
Secret Temptation Cheer is a new range of perfumes from Mcnroe, makers of Secret Temptation and Wild Stone ranges of grooming products. Cheer will be launched in small 30ml pack sizes, targeted towards young women, serving as their introduction to perfumes.
We were approached to design packs for the three variants of the Cheer range—Daisy, Jazz and Ruby.
ladylike as a departure from the overtly 'cute' cliche 
The pack interprets young femininity in an elegant, ladylike vein. The use of gold and deeper colours present an understated yet assured picture of a young girl's choices, hopes and aspirations.
The prominent Secret Temptation name inspires trust.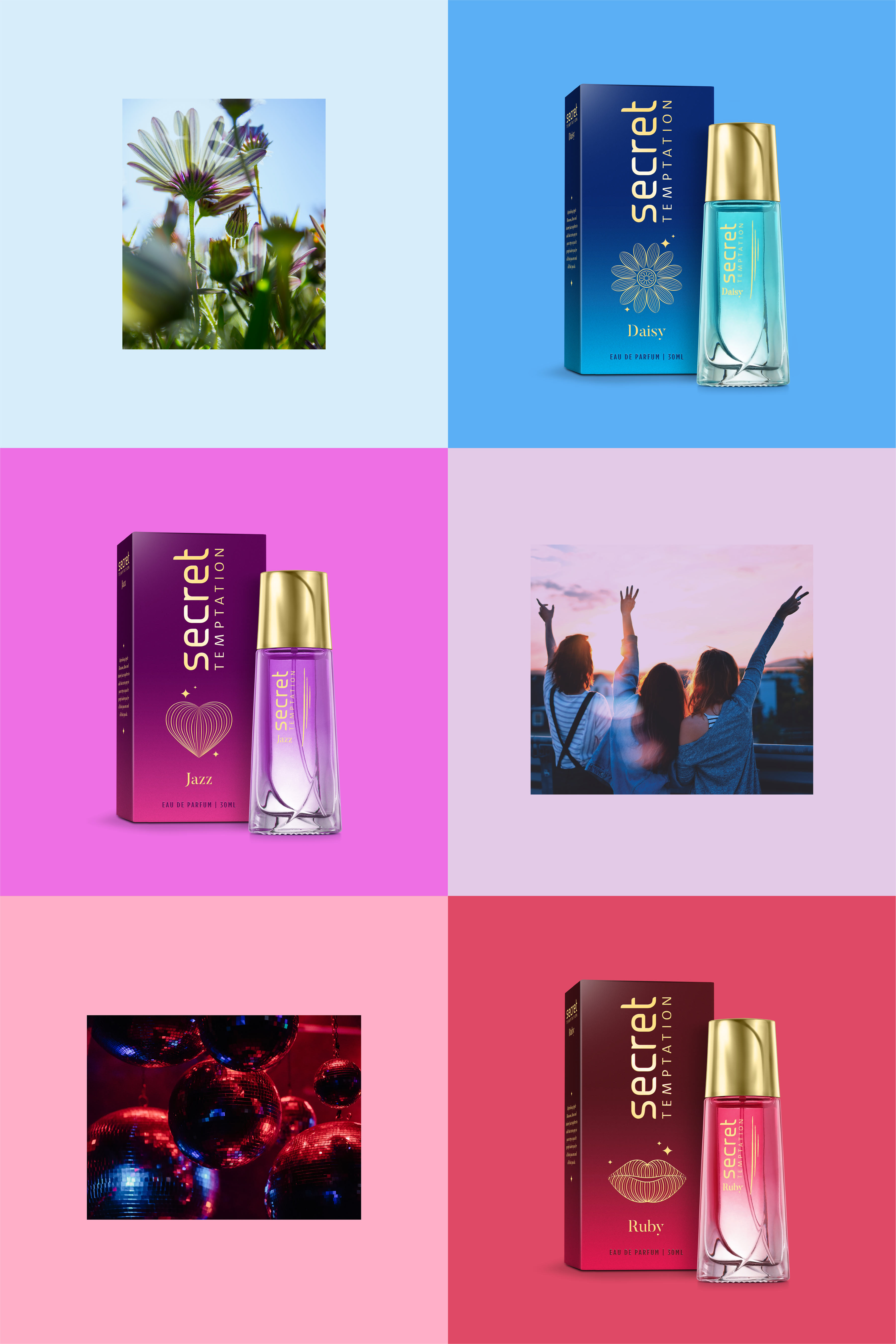 different times of the day… for the current times
A modern, young girl's day takes many turns. Cheer has a fragrance for every situation. The associations are explained through colours and mnemonic devices.
Daisy is for the daylight hours, Jazz is for the gym or a cuppa at the cafe and Ruby is for the evening ball or a night of dancing at the club. The golden cap and fading colour gradient on the bottles carry over the themes of elegance and day in the life associations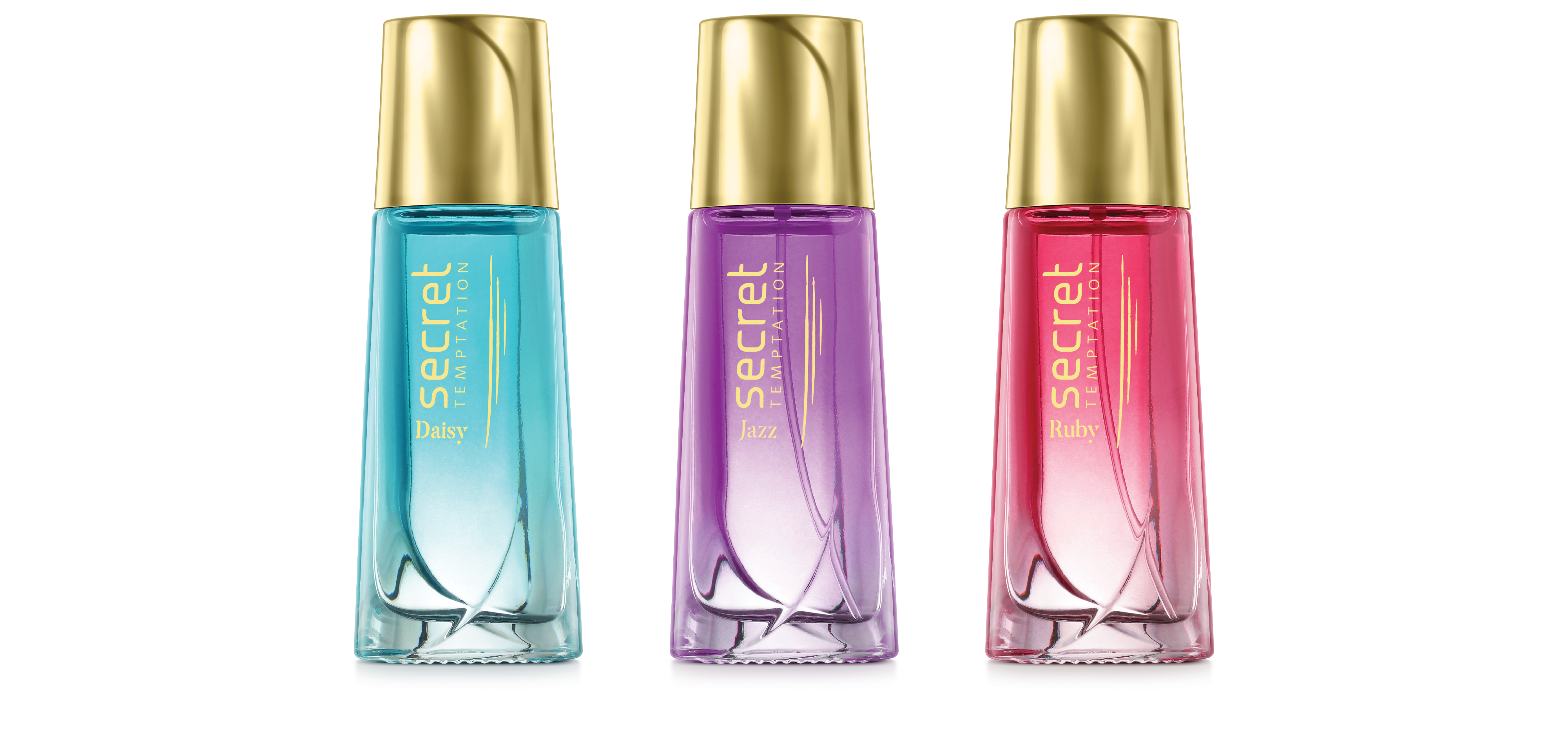 team
Partner-in-charge & Creative Director Itu Chaudhuri | Project Management Ashok Dey | Design Concept, Development Rohit Taitwal, Sneha Mahajan | Alternate Design Concept Sneha Mahajan, Anshika Sharma | Project Duration 5 months
see all